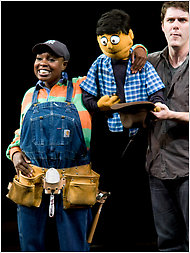 Gary Coleman is one of the main characters in the musical Avenue Q and is a parody of the real-life child star with the same name. After being robbed of his childhood earnings by his parents, Gary becomes the maintenance man of Avenue Q and appears frequently in the musical. In It Sucks To Be Me and Schadenfreude, Gary reflects on his misfortunate fate. In Schadenfreude, in particular, he claims to take pride in the fact others take pleasure in his misfortune and views it as a "public service."
Gary is played by a woman in the Broadway version of Avenue Q, even though he is a man. The reason for this, as explained by the show's creators, is that they wanted to make sure that nobody thought they were blatantly mocking Gary Coleman, so the little playful "wink" to the audience is the gender of the actor playing the role.
Broadway and Off Broadway Performers
Edit
Haneefah Wood
Tonya Dixon
Imari Hardon
Community content is available under
CC-BY-SA
unless otherwise noted.