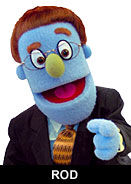 Rod is one of the main characters in the musical Avenue Q. He is a Bert-like character and an investment banker on Wall Street. He lives in the same apartment as Nicky. Rod is a closeted homosexual, but at the end of the musical, he comes out of the closet.
Songs
[
]
Broadway and Off-Broadway Portrayers
[
]
Sophia Anne Caruso
Barrett Foa
Howie Michael Smith
Seth Rettberg
Rob McClure
Adam Kantor
Jed Resnick
Jeffrey David Sears
Darren Bluestone
Ben Durocher
Dana Steingold
West End Portrayers
[
]
Jon Robyns
Daniel Boys
Paul Spicer
Adam Pettigrew
Sam Lupton
Tom Steedon
Sam Tutty
Scott Folan
Stewart Clarke
Notes
[
]
In July 2011, the same day same-sex marriage was legalized in New York City, Rod and Ricky (handled by Howie Michael Smith and Jed Resnick, respectively) made history as the first same-sex puppet couple to wed. The ceremony was done at City Hall beneath a rainbow chuppah. Kate Monster (handled by Jennifer Barnhart) served as a flower girl.
Rod is the second-most popular character after Kate Monster (in the fandom at least).
According to Avenue Q: The Book, in the developmental stages of the show, Rod was originally named "Paul."
Quotes
[
]
Well, I'm not the loser, the geek or -whatever!
Sweet suffering Jesus! Nicky AND Ricky?! Ooh, my cup runneth over!
(Referring to his gay "friend") He's an investment banker. . . and a Republican.im g
Number one: I apologize for being so hot-headed and difficult.